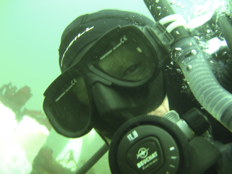 S.C.U.B.A. Diver

I became a certified SCUBA diver in 2000 under the tutalage of Mari Jachetta. I had been snorkling and freediving for years in Mexico and thought it a good idea to open the Seas a little more. I am still a greater fan of diving without gear than with, the freedom one has without the incumbrances of lead weight and rubber is incomparable.

I currently dive a Beuchat VX 10 reg with Dacor Octo. 7mm wetsuit is my primary outfit for cold water, but I'd love to dive dry. I swear by the Bio split fin for keeping down on fatique and use a 32 cm longfin for freediving.

I offer amateur photography, environmental management, underwater inspections, and minor boat repair.